Prolific Ghanaian TV personality widely known as Kodwo Mensah Aboroampa, who works with Adom TV, from the Multi – Media Group, bagged two awards at the just ended Ghana Journalist Awards, held on Saturday night, October 24, 2020.
The Ghana Journalists Association (GJA), held its 25th awards ceremony at the Movenpick Ambassador Hotel in Accra, to acknowledge distinguished journalists and media institutions.
After the awards night, Kodwo Mensah Aboroampa won GJA Best Journalist Sports (Electronic ) and Best Journalist (Transport and Road Safety ) respectively. 
He was the only journalist who won two competitive awards at the event. Kodwo Mensah also won an award at the 2017 GJA event when he was at TV Africa, in which he was awarded Best Journalist in Sanitation, Water and Hygiene.
The 2020 GJA event was on the theme: "COVID-19 and credible presidential and parliamentary elections: The media factor."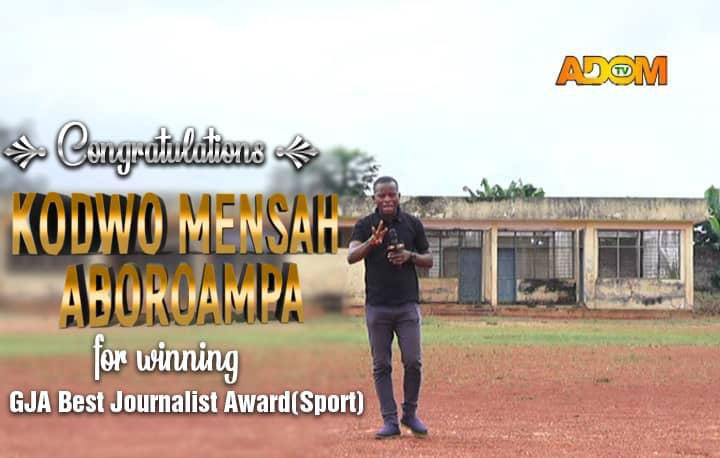 Kodwo Mensah Aboroampa after winning the award shared his joy and gratitude to his loving fans on Facebook, when he dedicated the awards to his godfather who dedicated his efforts in taking care of him from SHS, through to his University level from the University of Cape Coast.
Check out his post on Facebook and other pictures below: