Badu Nkansah, the publisher of the 'History of Ghana' textbook which has generated an uproar amongst Ghanaians has rendered an unqualified apology for its 'offensive description' of Ewes in the publication.
According to the company, although the book had satisfied most of the technical content requirements, the National Council for Curriculum Assessment (NaCCA) had informed them to work on certain aspects of the book in order for it to meet the expectations of the new curriculum.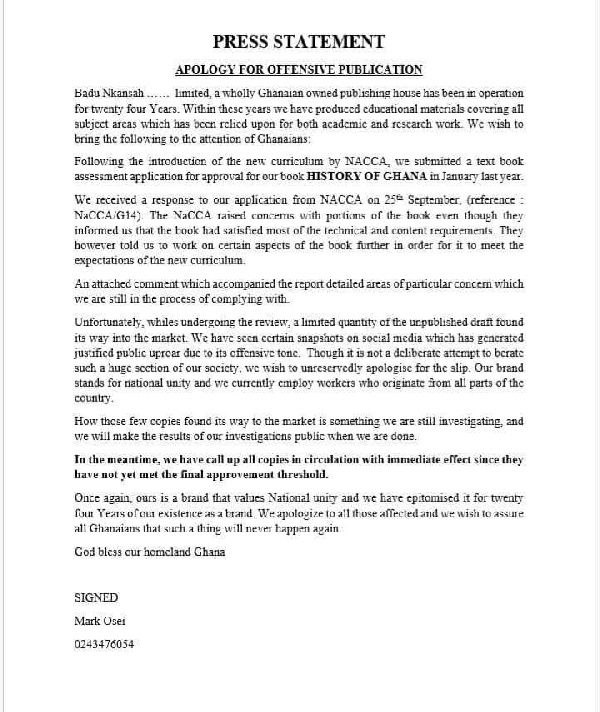 "Unfortunately, while undergoing the review, a limited quantity of the unpublished draft found its way into the market. We have seen certain snapshots on social media which has generated justified public uproar due to their offensive tone.
"Though it is not a deliberate attempt to berate such a huge section of our society, we wish to unreservedly apologise for the slip. Our brand stands for national unity, and we currently employ workers who originate from all parts of the country."
The company further stated that it is investigating how the few copies found their way into the market.
"In the meantime, we have called up all copies in circulation with immediate effect since they have not met the final improvement threshold.
"Once again, ours is a brand that values National unity. We apologise to all those affected and we apologise to all Ghanaians that such thing will never happen again," the statement read.
Meanwhile, the North Tongu MP has filed an urgent request in Parliamentary for the Education Minister, Dr Yaw Osei Adutwum to answer to newly-authored history textbooks titled 'History of Ghana'.
Describing the publication as "offensive, divisive and incendiary" Samuel Okudzeto Ablakwa stated that it was important for the Education Minister to answer some questions relating to the development before students in schools get polluted with them.