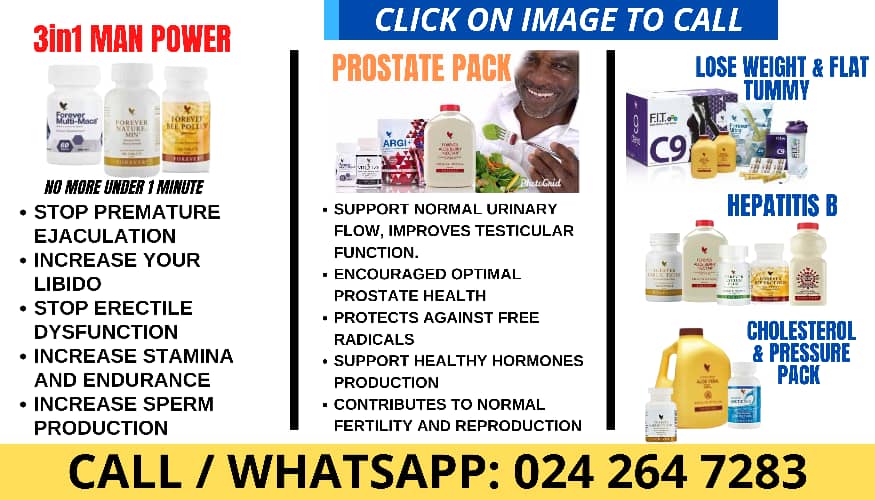 Hopes are fading for more survivors to be found in the wreckage of an apartment block in the southeastern Ukrainian city of Dnipro – a day after the building was hit during a major Russian missile strike.
Thirty people have been confirmed dead so far and more than 30 are in hospital, including 12 in a serious condition.
Between 30 to 40 people could still be trapped under the rubble of the nine-storey block, but the city's mayor Borys Filatov was pessimistic about prospects of more survivors being found.
"The chances of saving people now are minimal," Mr Filatov told Reuters news agency. "I think the number of dead will be in the dozens."
He said that two stairwells in the block including dozens of flats had been destroyed.
A number of people died in the attack and dozens more were injured

The attack on Dnipro was one of the deadliest strikes of the war against civilians.
The number of people killed makes it the highest death toll in one place since a strike on the Zaporizhzhia region in September 2022.
Russian forces injured in Belgorod after 'soldier mishandled grenade' – latest updates
Ukraine's air force said that the block had been struck by a Russian Kh-22 missile, an antiquated weapon which is known to be inaccurate and that Ukraine lacks the air defences to shoot down. The Soviet-era missile was developed during the Cold War to destroy warships.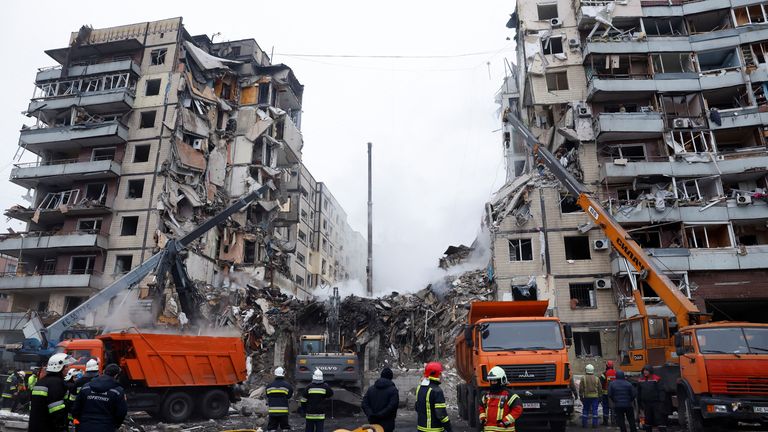 During the rescue operation on Sunday, emergency workers heard people screaming for help from the wreckage and waited for periods of silence to help direct their efforts.
Firefighters found a woman alive more than 18 hours after the attack, carrying her to safety in their arms; then a body was retrieved and lifted from the ruins on a stretcher by a crane.
Read more:
At least 30 dead as Dnipro apartment block struck
UK reveals number of tanks to be sent to Kyiv for first time
The mining town where Putin hopes for his first victory in months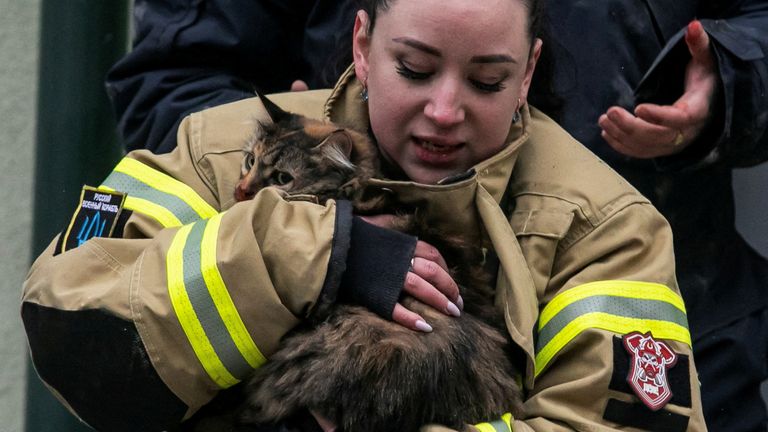 Russia has not specifically acknowledged the attack, but its defence ministry released a statement saying it had launched a wave of missile strikes against Ukrainian infrastructure and military sites.
"All assigned objects were hit," the statement said. "The targets of the strike have been achieved."
In his nightly address, President Volodymyr Zelenskyy vowed to keep looking for survivors of the Dnipro attack.
"Search and rescue operations and the dismantling of dangerous structural elements continues. Around the clock. We continue to fight for every life."
Click to subscribe to Ukraine War Diaries wherever you get your podcasts
He called on Western allies to supply more weapons to end "Russian terror" and attacks on civilian targets.
Saturday's attack came after Britain had followed France and Poland with promises of further weapons, saying it would send 14 of its Challenger 2 main battle tanks as well as artillery support.